Assessment of Exposure Doses and Decontamination
(2015)
Q

Does the radiation dose measured with a personal dosimeter represent the real radiation dose?
A

Radiation doses were measured at many places with different radiation levels by loading a personal dosimeter on a person or a model simulating a human body (called a "Phantom"). The results were compared with those of air dose rates (peripheral dose equivalents).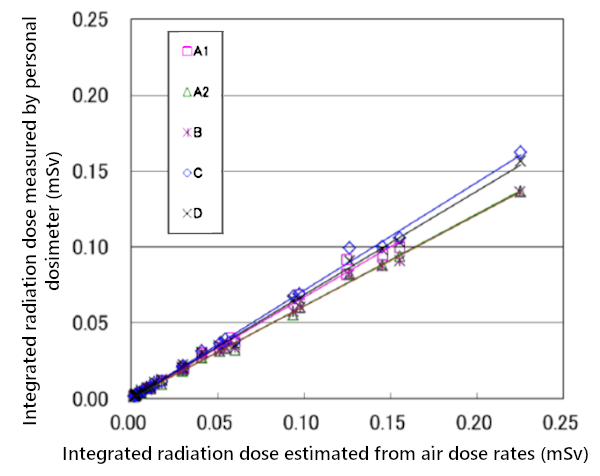 Five personal dosimeters (A1, A2, B, C, D) that were worn on real people were used.。
The values in all of the dosimeters showed 0.6~0.7 times of the peripheral dose equivalents.
Considering that the radiation dose in an adult is about 0.6 times of the peripheral dose equivalent, radiation doses measured with personal dosimeters are close to the real radiation dose.
The same investigation was conducted for children, and similar results were obtained.
It is confirmed that measurements with personal dosimeters represent nearly real radiation dose.