Radioactivity Dynamics in forests
(2016)
Q

Does forest type (deciduous broad-leaf forests or cedar forests) affect the dynamics of radioactive Cs?
A

We found that the forest type drastically affects the distribution and dynamics of radioactive Cs on the forest floor. Radioactive Cs recycling is less likely in deciduous broad-leaf forests, where radioactive Cs moves more readily into the soil layer.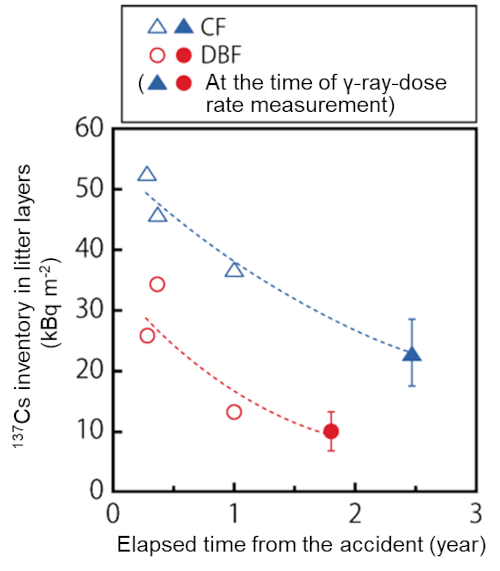 Although the 137Cs inventories of these two contrasting forest types were similar, the 137Cs inventory in the litter layer of the cedar forests (CF), where the litter mass was large, had remained large since just after the accident. The ecological half-life of 137Cs in the litter layer in CF was approximately 2 years, whereas that in deciduous broad-leaf forests (DBF) was approximately 1 year.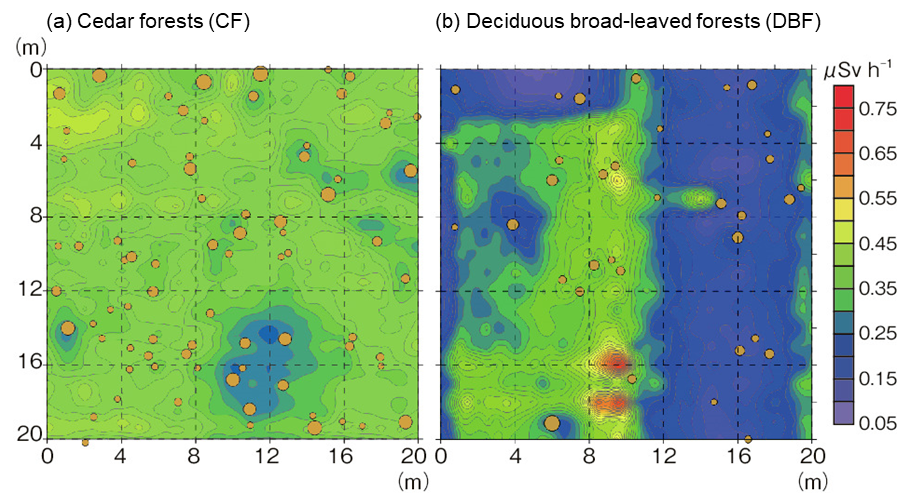 Circles in the panels indicate standing trees, and the diameters of the circles show the diameters at chest height (approximately 1.2 m). Cedar forests (CF) (a), in which more than half of the deposited radioactive Cs remained in the litter, had a higher γ-ray-dose rate on the ground surface than deciduous broad-leaf forests (DBF) (b), in which nearly 80% of the radioactive Cs was transferred to the lower-layer soil. In addition, the γ-ray-dose rate had high spatial heterogeneity in both CF and DBF, and the distributions had no relation with the position or size of the standing trees.