Assessment of Exposure Doses and Decontamination
(2014)
Q

Does the radiation dose of a person depend on age, gender, race, and physique?
A

Generally, the smaller the body size is, the larger the external radiation dose becomes, because the radiation-shielding effect of the body becomes small. The extent of this effect has been clarified by simulation.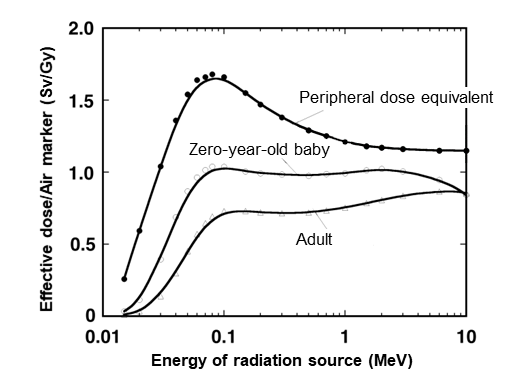 Simulation results for radiation source deposited the ground.
Effective dose is originally defined as averaged radiation dose for adult westerners (men and women).
The relation between effective dose and size of body has been investigated by applying the above definition to the other types of people.
The most important factor that affects the radiation dose is the body size depending on the age. Therefore, age-dependent dose conversion coefficients have been prepared.
Data measured with a personal dosimeter reflect difference in radiation doses depending of the body size.
It was confirmed that difference in radiation doses among gender, race, and body size is not so large.
It is possible to evaluate radiation dose depending on the age.