Assessment of Exposure Doses and Decontamination
(2015)
Q

What is the radiation-shielding effect of a house?
A

Conversion coefficient for reducing radiation is the ratio of air dose rate in house to that of outside. The conversion coefficient of a general house (wooden house, prefabricated house) built in a cesium-deposition area is about 0.4. But the coefficient changes depending on the situation. So the coefficient should be used only as a rough standard.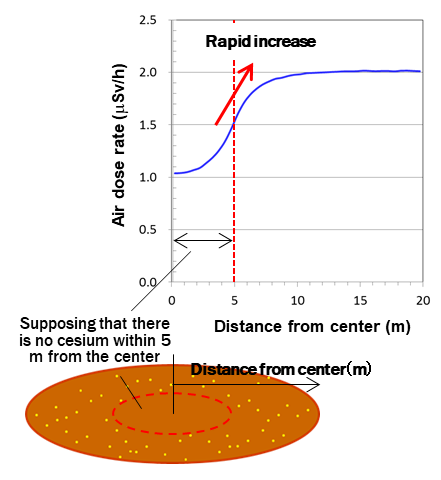 The reason why air dose rates in houses are in general lower is that there is no cesium deposits under the house.
If there is no radiation source within 5 m from the center, the air dose rate at the center position is about half of that of outside.
Air dose rate at the border of a house suddenly changes.So air dose rates at the border should be carefully measured.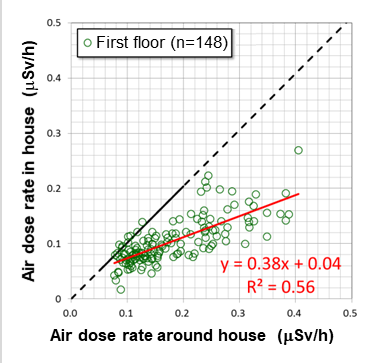 Conversion coefficient for reducing radiation at the first floor of a house is about 0.4 on average. But the value changes depending on individual houses.
In the places where air dose rates are low, the effect of natural radiation from ground should be separately considered.
We should be careful to measure air dose rates around houses because they change considerably.
(Report on Investigation of Radiation Distribution: http://fukushima.jaea.go.jp/initiatives/cat03/entry06.html)
Conversion coefficient changes depending on the size and shape of a house.