Assessment of Exposure Doses and Decontamination
(2014)
Q

How much will the air dose rate be reduced by decontamination in the Specified Reconstruction and Revitalization Base areas? 【Example of analysis】
A

It depends on the topographic features, land use, and other characteristics of the area to be decontaminated. However, it is predicted that decontamination will reduce air dose rates by about 60% on average, making the pace of reduction roughly 20 to 30 years faster than when no decontamination is conducted.

Decontamination simulations using the RESET decontamination activities support system and predictions and analyses of future air dose rates using the two-component decay model were performed on Specified Reconstruction and Revitalization Base areas located in six municipalities in Fukushima Prefecture, which are certified by the Reconstruction Agency.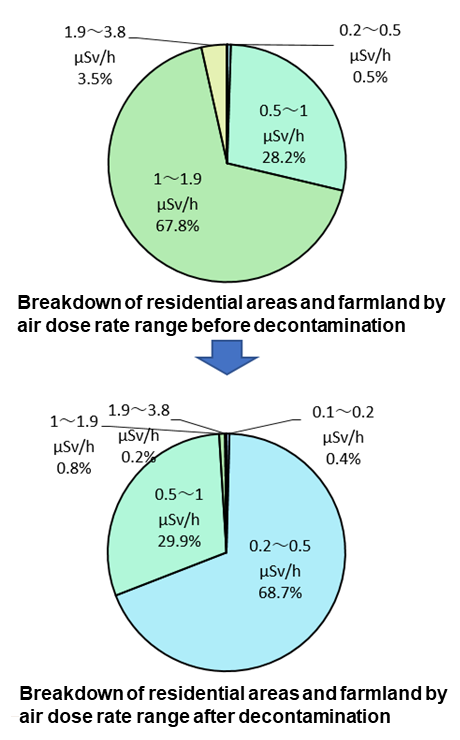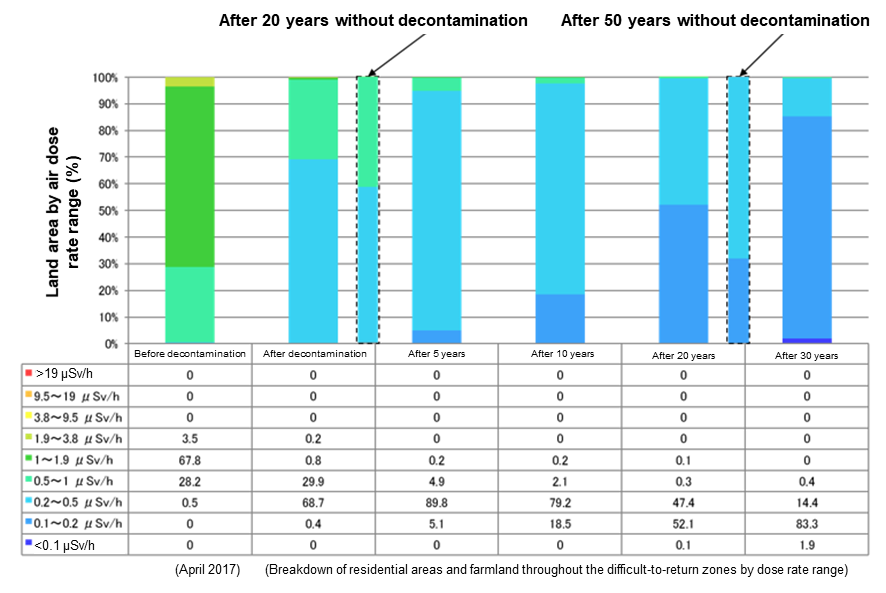 Major results
By the spring of 2022 to the spring of 2023, when the government aims to return the residents to their hometowns and let them resume their lives there, air dose rates in at least 95% of the designated decontamination areas are predicted to fall to less than 1.0 µSv/h.
As a result of decontamination, air dose rates are predicted to reduce 60% on average.
Decontamination is predicted to speed up the air dose rate reduction by about 20 to 30 years.
However, since these predictions and analyses use average values as the decontamination coefficient, a coefficient representing the effectiveness of decontamination, actual reductions in the air dose rate should be roughly within a range of plus or minus 15% of the predicted values.