Communication activities
Meeting to Answer Questions on Radiation
JAEA holds a "Meeting to Answer Questions on Radiation" for kindergartens, elementary and junior high schools in Fukushima Prefecture and their parents and teachers.
After the accident of the Fukushima Daiichi Nuclear Power Station, the anxiety against radiation has increased especially among small children. Considering such circumstances, this meeting was planed to let the parents and teachers deepen the scientific understanding of radiation and to alleviate unnecessary anxieties as much as possible.
Since the starting of the meeting in July 2011, it had been held 283 times by the end of April 2023, and in total about 24,016 people have participated.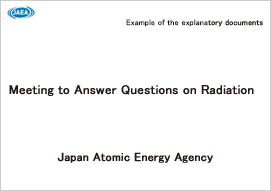 From our experiences in the risk communication activities, in principle four staff of JAEA form a team, and the team first explains the basic contents about radiation. Then, a question-and-answer time in which the staff answer one by one in detail is set as long as possible. Thereby, the communication between the participants and the staff will deepen. As to the explanatory documents, we prepare for each meeting based on the meeting time and questions that have been sent from the participants to us in advance. We are making efforts to prepare the explanatory documents with easy-to-understand words as possible as we can.
In the meeting, we also try to politely answer the questions by participants. The followings are the examples of the answers to the questions.
Q1

When playing outside, what should we take care?

A1

What we should take care, when playing outside.[127KB]

Q2

What is the radiation dose that does not affect babies?

A2

Radiation dose that does not affect babies,[94KB]

Q3

How was the radiation dose on thyroid of children in the accidents of Chernobyl and Fukushima?

A3

Comparison of radiation dose on thyroid between Chernobyl and Fukushima[120KB]

Q4

How to read the result of film badge (dosimeter) and whole-body-counter?

A4

How to read the results of dosimeter and whole-body-counter? [188KB]
From now, we will continue to revise and upgrade the explanatory documents for the better understanding of the participants.
<Inquiry about the Meeting to Answer Questions on Radiation, and application to hold the Meeting>
Sector of Fukushima Research and Development, Japan Atomic Energy Agency
Phone (toll-free)? 0120 506 292? (Reception hours: Mon.-Fri. 9:00~17:00)